Is My Septic System Failing?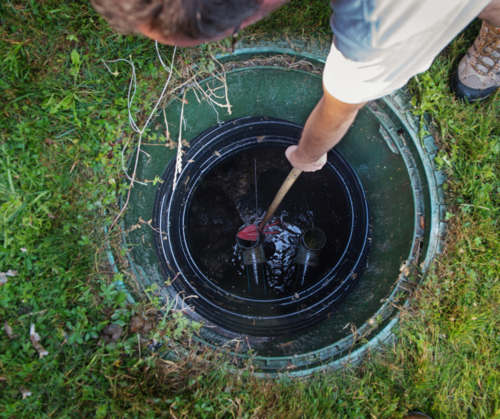 Are your toilets backing up?
Is there a foul odor coming from your drains even on a beautiful summer days?
A failing septic system is a great way to ruin not only your day but your entire summer. It can be costly to fix and may deplete the rainy day fund that you were saving for that fun family getaway.
According to the United States Environmental Protection Agency (EPA), there are many signs that point to a failing septic system, including:
What are common signs of a failing septic system?
Water and sewage from toilets, drains, and sinks backing up into the home's plumbing
Bathtubs, showers, and sinks draining very slowly
Gurgling sounds in the plumbing system
Standing water or damp spots near or over the septic tank or drainfield
Sewage odors around the septic tank or drainfield
Bright green, spongy lush grass over the septic tank or drainfield, even during dry weather
Straight pipe discharging untreated wastewater to the ground surface
Algae blooms in nearby lakes or waterbodies
High levels of nitrates or coliform bacteria in surface waters or drinking water wells
If you smell a foul odor coming from your septic system, does that mean your system is failing?
There may be several reasons for the smell, which can occur inside or outside your home. If you notice an odor, it may be coming from a roof vent or other vent pipe that allows the system pressure to equalize. This is a normal part of your system. Sometimes these vents can become obstructed and clogged (from leaves, debris, etc.) or the vent pipe can freeze during prolonged cold spells. Another possibility is a down draft (changes to wind pattern) or other location-specific conditions. These situations could cause an odor inside or outside of your home. In these cases, the vent may need to be cleaned or raised. There are charcoal filters available for roof vents that may also alleviate the odors.
If your drainfield is not working properly, that could be another reason you smell an odor inside your home or around the septic system. Soft, wet, or spongy soil (especially when there have been no significant rainfall events) around your drainfield is a good indication of a system failure.
How can I prevent a septic system failure?
Regular maintenance is the best method to prevent septic system failure. Septic maintenance includes inspecting the entire system every 1-3 years and pumping the tank every 2-3 years. The frequency for pumping your septic tank depends on the tank size, number of people in your household, the water habits and use, if a garbage disposal is used, and the amount of solids accumulated in the tank. A rule of thumb is to pump the tank when the solids are two-thirds of the volume in the tank.
65 years' Experience in Septic Tank Pumping!
LaChance Brothers Excavating has the experience you're looking for in septic tank pumping for your South Lyon home. We've been serving South Lyon and the surrounding communities since 1956. We understand not every installation or repair is the same, and we know how to adapt to your unique situation to find a high standard septic system solution.
We're the septic system and drain field specialists! For all your septic system services, including installation, repair, and excavation, call LaChance Brothers Excavating today at 248-962-3670 or contact us to get started.