Septic tank pumping in South Lyon, MI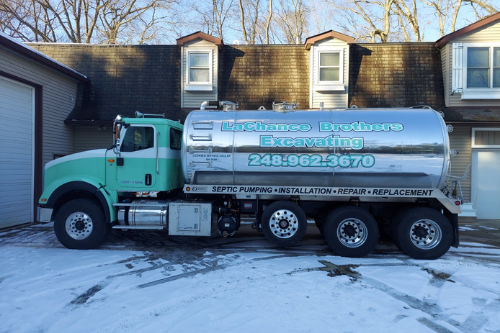 Are you looking for septic tank pumping in the South Lyon area?
Do you know the signs that your septic tank needs pumping?
Septic system problems can be messy and expensive to repair or replace. So how do you keep yours in top working order?
By scheduling regular septic tank pumping with LaChance Brothers Excavating!
For best performance, a septic tank should be pumped every 2-3 years. If your septic tank is overdue for cleaning, or is failing, you may notice:
A bad odor above the drainfield
Gurgling pipes or drains
Slow drains
Plumbing or sewage backups in the home
Water backups in the basement
Puddles over the drainfield (not as obvious during periods of heavy rain)
Grass over the drainfield that is greener than the rest of the yard
A failing septic system isn't just unpleasant — it's a health hazard. When sewage backs up into your home, it brings bacteria with it that can make your family sick.
If you notice any of these symptoms, or if you don't remember the last time your septic tank was pumped, call LaChance Brothers Excavating. We can inspect the condition of the septic system, pump it out, and recommend any needed repairs.
If you suspect trouble with your septic system, don't wait to call us! Waiting too long could be disastrous for your septic system and your home. Sewage emergencies are messy, unhealthy for your family, and pricey. It's not worth the risk of waiting.
For septic system inspections, installation, repair, or septic tank pumping in the South Lyon area, call LaChance Brothers Excavating today at 248-962-3670 or contact us via our website.