Do I Need to Have My Septic Tank Pumped?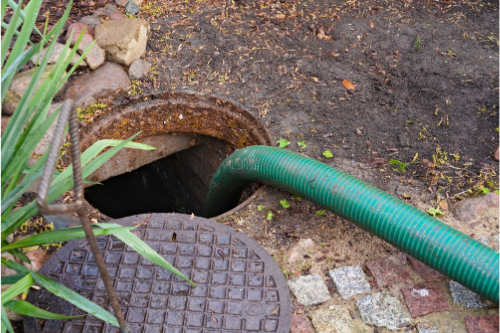 Do you have a soggy yard?
Have you noticed lush green grass growing over your drain field?
Is there a smell of sewage in or outside your house?
If so, it sounds like you have a septic system issue and should have your septic tank pumped. And that's not something you want to put off! An overly full septic tank isn't going to improve on its own. Delaying can have expensive consequences.
How Do I Know If My Septic Tank Needs to Be Pumped?
When a septic system can't handle any more waste, the wastewater starts to back up into the house or pool above the septic field. This can have unpleasant and expensive effects on your septic system. Without pulling the lid on your tank to monitor the waste level, you might notice some pretty clear signs if it's over full, like:
Slow draining sinks and toilets – If the toilets and sinks in your house are sluggish, or if waste in the bowl doesn't go down or stay down, your septic tank could be too full.

Soggy or lush spots in the yard – Standing water on the lawn over the drain field can be a sign that wastewater can't drain efficiently. Lush, green grass can indicate that the drain field is oversaturated. Those lush green patches are a sign that wastewater is fertilizing the lawn as it slowly makes its way to the surface.

Sewage odor – Even if you can't see a septic system issue, you may smell it inside your house and outside. That sewage smell means waste is backing up in the pipes because it can't drain properly.

Sewage backup in your house – Can you imagine a more unpleasant surprise than waking up to sewage backing up into your shower and sinks? It's not just disgusting to see and horrible to smell, but it also brings unhealthy bacteria into your home.
Regular Maintenance is Important
Pumping out your septic tank on a regular schedule prevents backups and extends the life of your drain field. Check your calendar before your septic tank shows signs of backing up. How long has it been since your tank was pumped? Track it, schedule it, and follow through!
On average, we recommend pumping a septic tank every 2-3 years, but your system's needs may depend on tank size and the number of people using your septic system. In the past, the county recommended every 2 to 3 years but due to Covid19 and so many more people working from home, your system may be overworked and you may want to have it pumped annually.
Don't Wait Too Long
Waiting too long to pump your septic tank can lead to the problems listed above. Worse, the pipes in the drain field can become clogged with solid waste, making it impossible for your septic system to work correctly. At that point, you may need a septic repair or replace your system, which is much more expensive than pumping the tank.
We're a Family Business since 1956
LaChance Brothers Excavating has been serving Livingston, Oakland, Washtenaw, and Wayne Counties for over 65 years. We've had a LaChance at the helm since day one, holding our work to the highest standards.
If you're concerned about your septic tank, contact us on the website or call 248-962-3670 to talk to an expert at LaChance Brothers Excavating.