Could Supply Shortages Affect Your Septic System Service?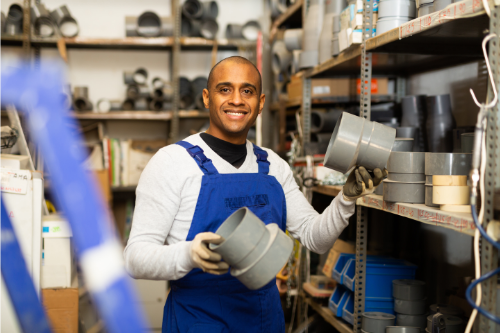 Are you planning to have your septic system repaired this summer?
Do you need a septic system installed for a new construction project?
Even if you were planning to wait until later in the summer for septic system service, now is the right time to call us. Waiting may push your project back longer than you expected. Here's why.
The distribution of the COVID vaccine is finally easing the infection rates and opening up a pathway for America to return to some kind of normal. But the pandemic's effects are still being felt in day-to-day business operations. In fact, many industries are experiencing long lasting effects, which are hurting their ability to return to "business as usual." Construction and building trades are hit especially hard.
During the height of the pandemic, many families tackled home improvement projects as a way to stay busy and productive while homebound. Now, moving into the recovery phase of the pandemic, low interest rates are keeping the building and renovation trend alive. On one hand, this is great news!
On the other hand, many businesses are still struggling to recover from the pandemic, which:
Put many suppliers out of business
Caused manufacturing shutdowns
Created staffing shortages
Interrupted the supply chain
Caused shipping delays
The demand for construction is growing faster than the business world is recovering. Demand has overtaken supply, driving up costs and creating a shortage of basic materials.
In addition, remember the extreme weather in Texas in February? That also contributed to rising costs and lower supplies by shutting down production facilities and interrupting supply lines.
How does the supply shortage affect septic systems?
How does all this affect septic systems? Well, one of the materials in short supply now is PVC pipe. The "perfect storm" of pandemic, increased demand, and the weather disaster in Texas caused PVC prices to increase by as much as 270% from March 2020 to March 2021, according to the Associated General Contractors of American (AGC). The AGC also predicts that the price increases and delays due to shortages will continue through 2021.
Does this affect my planned septic system service?
Unfortunately, it does. Vinyl, wood, metals like steel and copper, and plastic supplies are in short supply right now. This hurts the construction and home improvement businesses, including septic system services like installation, repair, and replacement. Many septic tanks are made from plastic, and most of the pipes used to connect the system are PVC.
Here at LaChance Brothers Excavating, we've noticed the lack of supplies as well as the unbelievable price increases in the materials we use.
In fact, the global pipe shortage really hit home in the past few weeks as John had to drive around from store to store to find the pipe needed for a septic replacement we were currently installing. There just wasn't any pipe in the area! We were eventually able to find enough to finish the system, but it was touch and go for a while.
We also noticed that the price of the schedule 40 PVC we use for drainage increased from $17 per stick a year ago to $45 per stick last week. Suppliers are scrambling to provide enough pipe to their clients, and the prices show it.
Don't wait to install or repair your septic system
We encourage anyone who needs septic system service to schedule their work as soon as possible — to ensure we've got the pipe before the shortage becomes even worse. Waiting on repairs — hoping your septic system holds out longer than the shortage — is a risky gamble. Waiting too long could be disastrous. Sewage emergencies are messy, unhealthy for your family, and pricey. It's not worth the risk of waiting.
65 years' experience in septic system service!
LaChance Brothers Excavating has been excavating residential homes since 1956. We understand not every installation or repair is the same, and we know how to adapt to your unique situation to find a high standard septic system solution.
We are the premier septic system and drainfield specialists! For all your septic system services, including installation, repair, and excavation in Southeast Michigan, call LaChance Brothers Excavating today at 248-962-3670 or contact us via our website to get started.