How Garbage Disposals Impact Septic Systems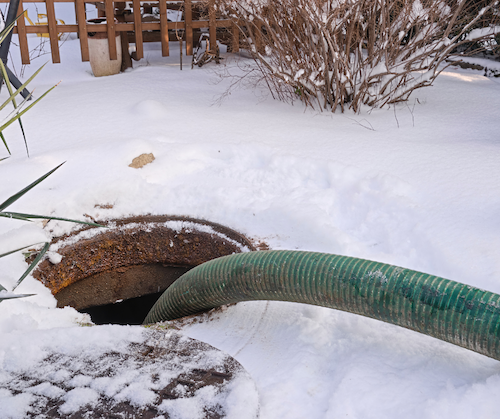 Do you have a garbage disposal?
Are you cautious what you put into it?
If you're on a septic system, you should learn the do's and don'ts of using your garbage disposal.
If you use your disposal often and put a lot of food waste into it, you'll need to have your septic tank pumped more frequently to keep it running at maximum efficiency.
According to the EPA, "food waste usually is slowly digested by the healthy bacteria in your septic tank and can accumulate as scum and sludge. If a large amount of water enters the septic tank or the tank fills up with solids, it can push the solids into the drainfield, causing the pipes to clog and increasing the thickness of the biomat (a bacteria layer that forms on the bottom and sides of the drainfield trenches). If you must use a garbage disposal unit, your tank will need to be pumped more frequently."
Things you should never put down your garbage disposal because they could clog your septic system or cause a failure:
Food – Food is not meant for the garbage disposal if you're on a septic system. Large animal bones, foods that expand with water, and starchy foods like potato peels can clog your drains and cause harm to your septic system. Consider removing your garbage disposal to avoid a future problem.
Cooking grease or oil – It's best not to put grease and oil down your sink at all. They will eventually solidify in your pipes and cause slow draining or clogs. Dispose of grease in a good old-fashioned grease jar instead.
Coffee grounds – Coffee grounds don't break down in water. They'll clump together and wreak havoc on your septic tank.
Cat litter – Same as coffee. It will clump together and expand in water causing your system to work harder.
Paper towels – This material will not disintegrate quickly. It will expand when it comes into contact with liquid. Your septic system will have to be pumped more frequently to keep up with the waste.
Pharmaceuticals – These are potentially harmful chemicals that can pollute your water and potentially expose your community to harm.
Household chemicals like gasoline, oil, pesticides, antifreeze, and paint or paint thinners – Bleach, drain openers and other chemicals can damage pipes and septic systems, as well as pollute the environment. If you use chemical products, it's important to dispose of them safely.
Have questions about how to keep your septic system running at peak performance? Contact the experts at LaChance Brother's Excavating to answer your questions regarding septic tank pumping in your area.
65 years' Experience in Septic Tank Pumping!
LaChance Brothers Excavating has the experience you're looking for when it comes to septic tank pumping for your South Lyon home. We've been servicing South Lyon and the surrounding communities since 1956. We understand not every installation or repair is the same, and we know how to adapt to your unique situation to find a high standard septic system solution.
We are the premier septic system and drain field specialists! For all your septic system services, including installation, repair, and excavation, call LaChance Brothers Excavating today at 248-962-3670 or contact us to get started.