8 Signs of Septic System Failure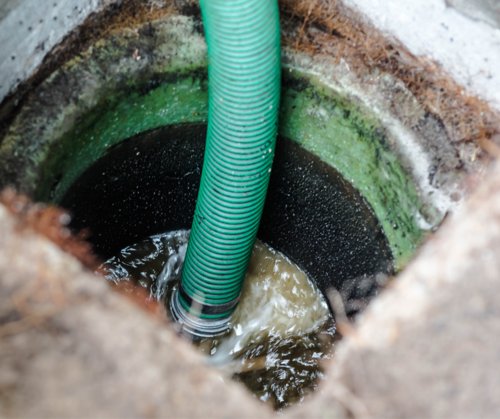 Do you regularly maintain your septic system?
Are you experiencing signs that your septic system isn't working properly?
How do you know for sure if your septic system is failing?
Here are some red flags to be aware of:
Water and sewage from toilets, drains, and sinks are backing up into the home.
Bathtubs, showers, and sinks drain very slowly.
Gurgling sounds in the plumbing system.
Standing water or damp spots near the septic tank or drainfield.
Bad odors around the septic tank or drainfield.
Bright green, spongy lush grass over the septic tank or drainfield, even during dry weather.
Algal blooms in nearby ponds or lakes.
High levels of nitrates or coliform bacteria in water wells.
Can my failing septic system contaminate the water?
Yes, a failing septic system can contaminate well water and nearby bodies of water. Untreated wastewater is a health hazard and can cause diseases. If untreated wastewater enters the groundwater, you and your neighbor's wells can be contaminated. If the sewage reaches nearby streams or bodies of water, shellfish beds and recreational swimming areas can be contaminated.
Emergency septic service in South Lyon, MI and surrounding areas
If you suspect trouble with your septic system, don't wait to call us! Waiting too long could be disastrous for your septic system and your home. Sewage emergencies are messy, unhealthy for your family, and pricey. It's not worth the risk.
Contact an experienced septic cleaning service in your area as soon as you notice any issues flushing or draining sinks in your home or business. Your best bet for a clean septic system is routine maintenance every 2-3 years. Mark it on your calendar and never miss scheduled maintenance!
65 years' Experience in Septic Tank Pumping!
LaChance Brothers Excavating has the experience you're looking for in septic tank pumping for your South Lyon home. We've been serving South Lyon and the surrounding communities since 1956. We understand not every installation or repair is the same, and we know how to adapt to your unique situation to find a high standard septic system solution.
We are the premier septic system and drain field specialists! For all your septic system services, including installation, repair, and excavation, call LaChance Brothers Excavating today at 248-962-3670 or contact us to get started.